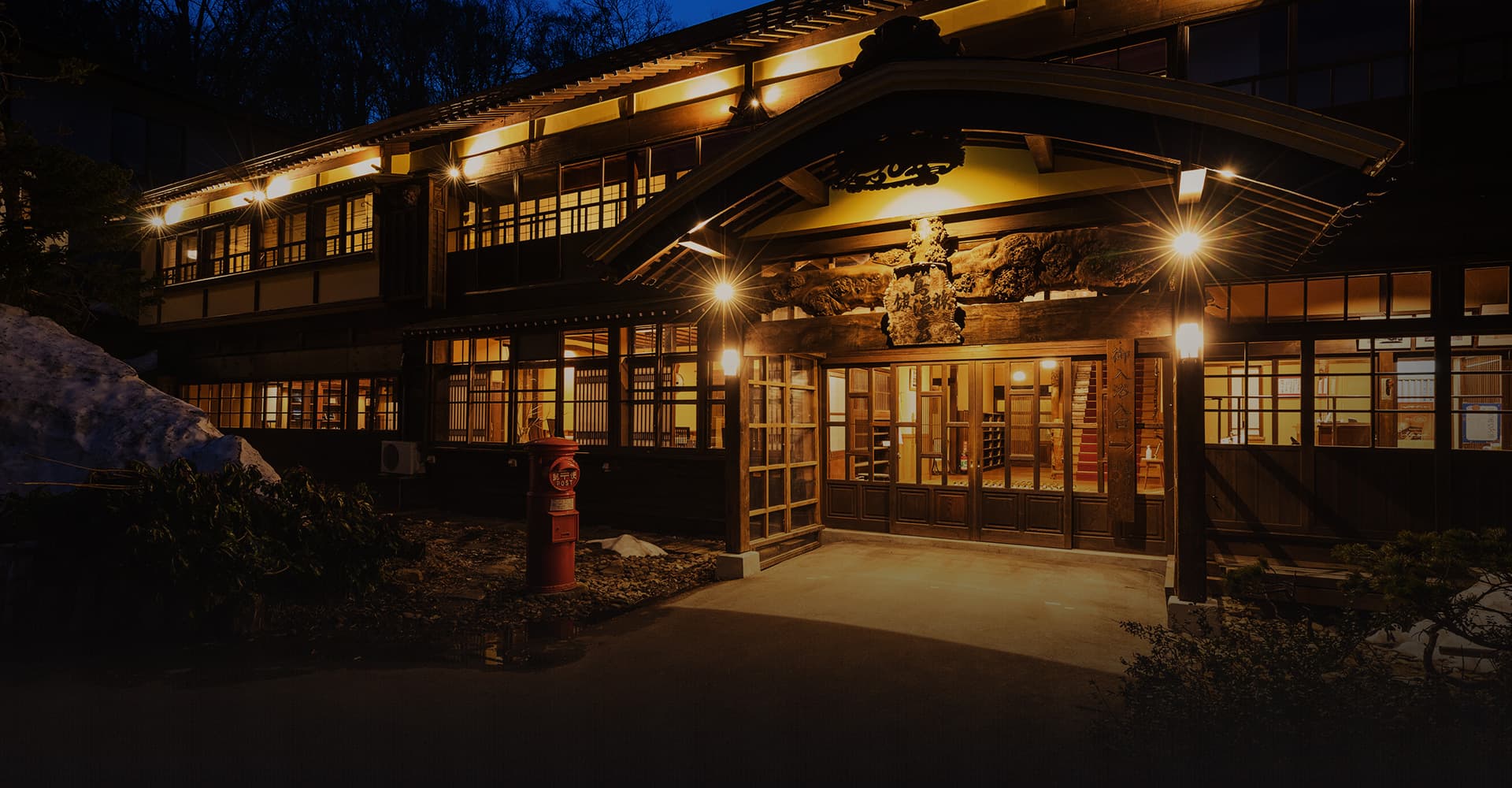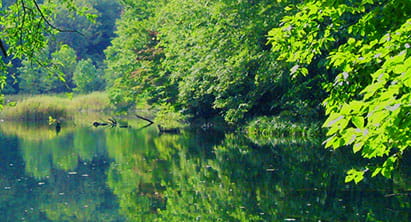 Play Movie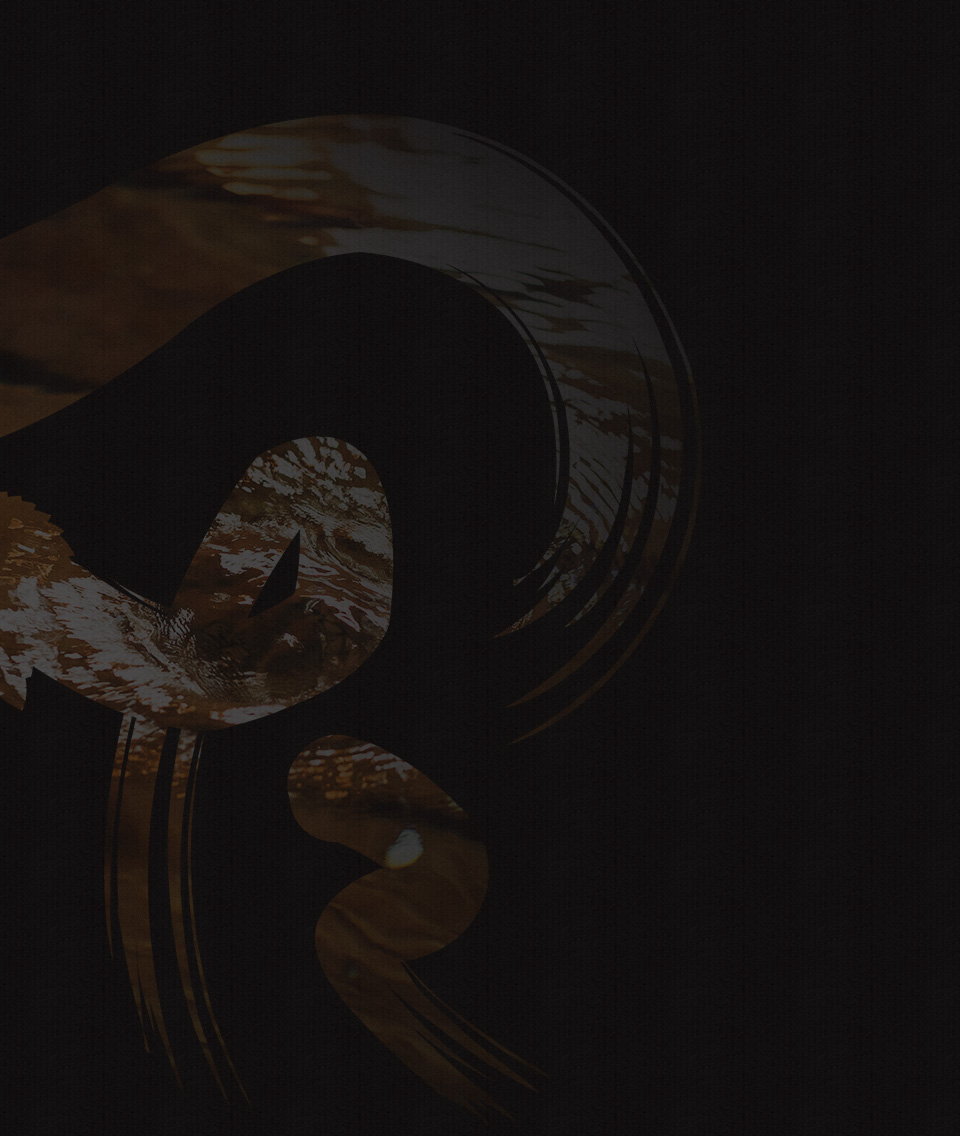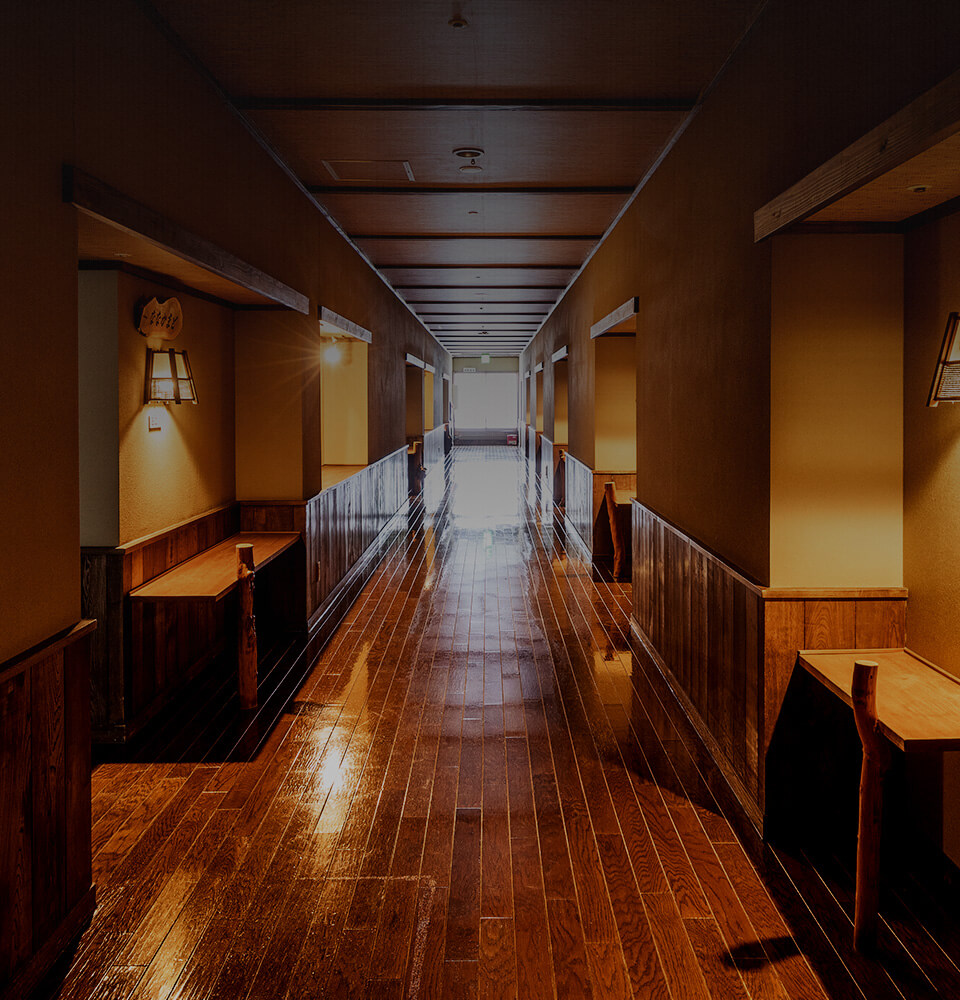 A warm, comfortable inn open since the Heian period.
Tsuta Onsen is an inn situated at the mouth of Oirase Gorge in Aomori.
Records of hot spring resorts here date all the way back to the year 1147. Feel at home as you take in the pristine air and clear flowing streams of the great outdoors while basking in this hidden free flowing hot spring, a rarity in Japan.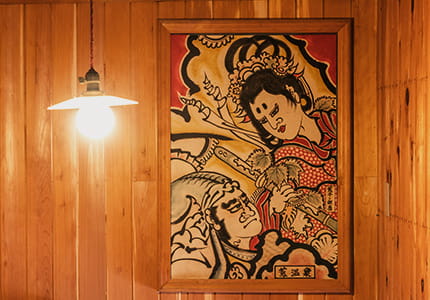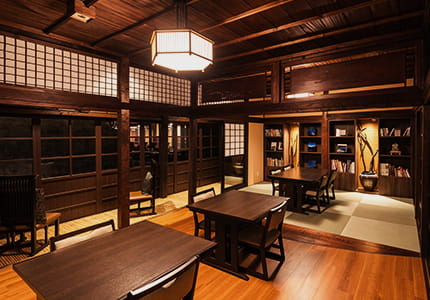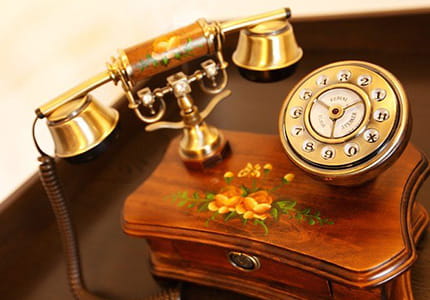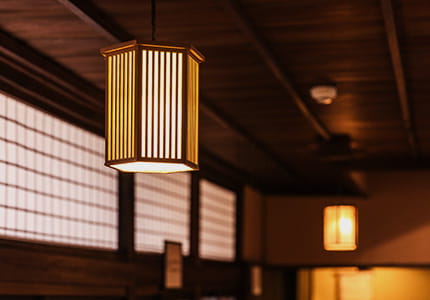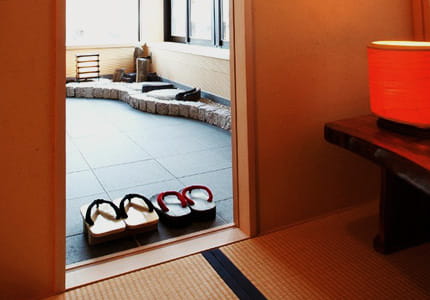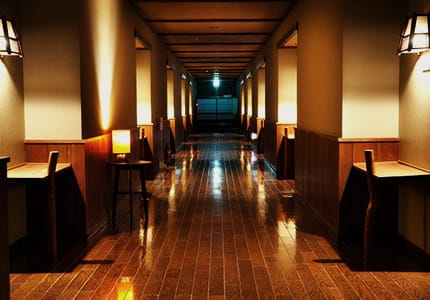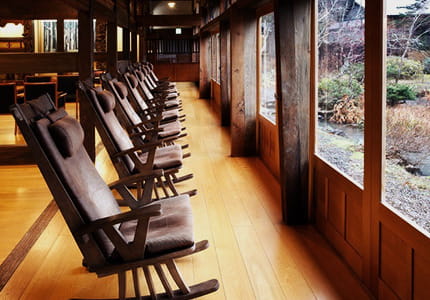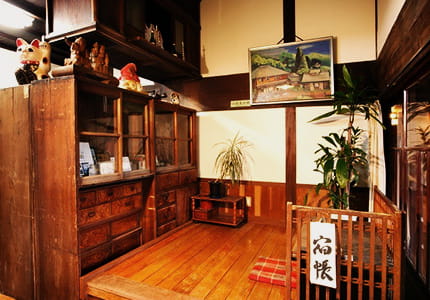 Access
Approximately 2 hours and 10 minutes from Haneda Airport by airplane and bus.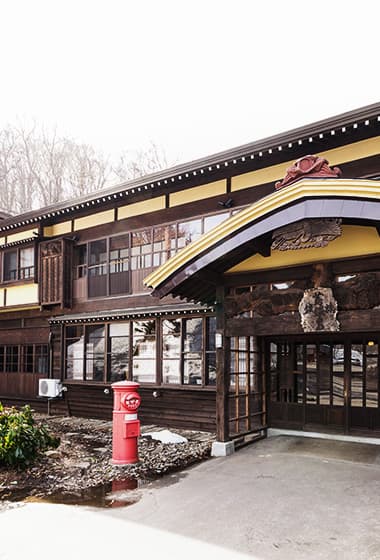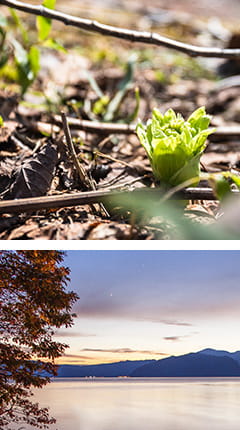 Route Map
Haneda Airport
Airport Line
Approximately 1 hour

Aomori Airport

JR Bus
Approximately 35 minutes

Aomori Station

JR Bus
Approximately 2 hours and 8 minutes
Free shuttle service
We offer free shuttle service to and from Shichinohe-Towada Station.
Guests who wish to use this service are asked to reserve a seat three days before the check-in date.
Please note that required travel times may vary during the winter season
(December 2 to January 10).
Pick-up
| From Shichinohe-Towada Station | Arrive at Tsuta Onsen |
| --- | --- |
| 3:00 p.m. | 4:00 p.m. |
*The pick-up area will be the waiting room on the 1st floor of the Tourism Information Center at the South Exit
Drop-off
| From Tsuta Onsen | Arrive at Shichinohe-Towada Station |
| --- | --- |
| 9:30 a.m. (9:00 a.m. during winter season) | 10:30 a.m. |
Sightseeing
Tsuta Onsen is situated halfway up Hakkoda Mountain in the hot spring resort area of Aomori. Surrounding this inn are places to soak in the great outdoors, including Lake Towada and Oirase Gorge.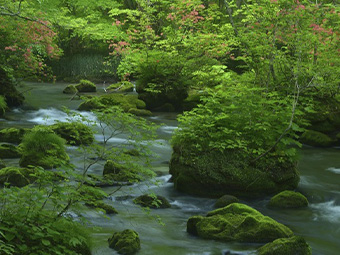 Oirase Gorge
Lush forests with waterfalls, flowing mountain streams, strange rock formations, and scenic views combine to create a stunning mountain valley where you can enjoy nature in all its glory throughout the seasons. Visit from May to June to take in the greenery and from mid to late October for autumn colors.
Access: 15 minutes by car from our inn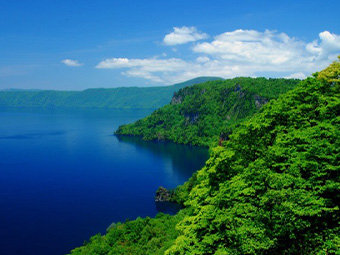 Lake Towada
Discover lush greenery in summer, colorful leaves in autumn, and surreal landscapes in winter at Lake Towada. For greenery, the best season to visit is from May to June, while for autumn leaves, the foliage starts to change color in early October and reaches it peak color around mid to late October.
Access: 45 minutes by car from our inn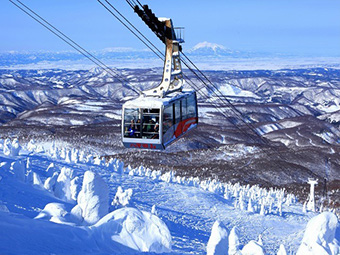 Hakkoda Mountains
Ropeways and walkways starting at Summit Park Station let visitors observe the diverse marshlands and alpine flora here. Enjoy the colorful foliage in autumn and mountain skiing in winter.
Access: 35 minutes by car from our inn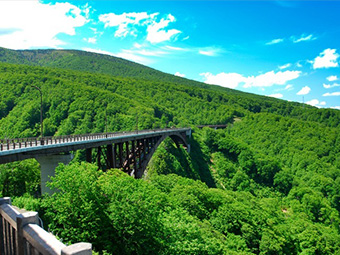 Jogakura Bridge
Jogakura Bridge, the biggest arch bridge in Japan, was built to span the Jogakura Valley in Hakkoda, an area that once had difficult access. This is now the premier driving route in Hakkoda, Aomori, with many tourists visiting every year.
Access: 30 minutes by car from our inn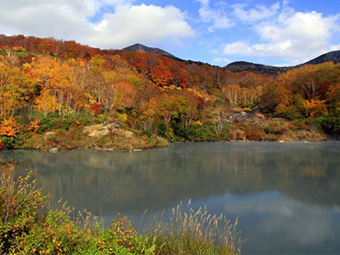 Jigoku Numa Marsh
With hot springs reaching temperatures of 90 degrees Celsius or higher, steam rising throughout the year, bubbling on the surface of the marsh, and "Do Not Enter" signs strewn here and there, this place literally looks like hell, yet is a strangely beautiful scenic spot.
Access: 25 minutes by car from our inn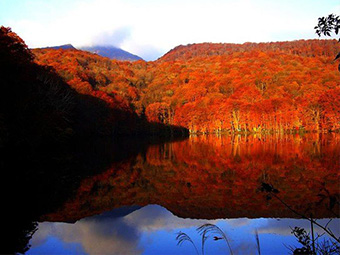 Tsuta no Nana Numa
Tsuta no Nana Numa is the collective name for seven ponds that together create a mystical scenery, namely Tsutanuma, Kagaminuma, Tsukinuma, Naganuma, Suganuma, Hyotannuma and the slightly farther Akanuma. There is also a trail called "Numa Meguri no Komichi" where visitors can enjoy hiking.
Access: 5 minutes by car from our inn
Hot spring
The baths at our inn are sourced from a free flowing natural hot spring, a rarity in Japan. Hot water gushes from the bottom of the tub without ever touching the air.
Bathing times rotate between men and women
Kyuan-no-Yu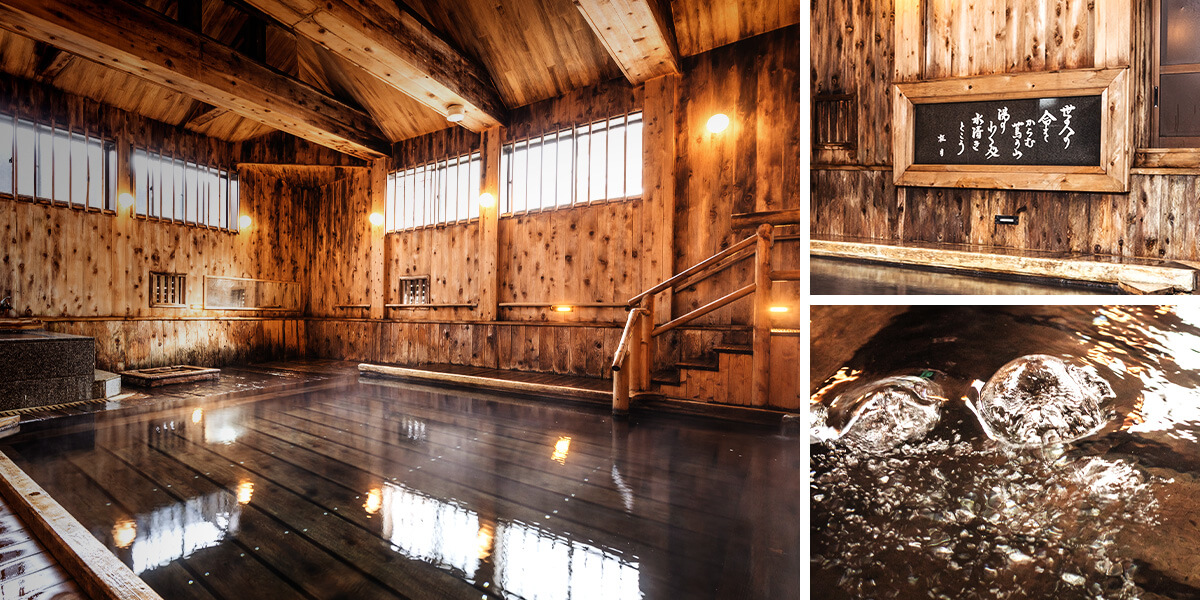 Founded in the Heian era, this secret hot spring features hot water gushing from the hot spring source below
Having reached its current form after renovations in 1990, this hot spring is renowned for its cozy, old-fashioned appearance.
Hours
Women: 10:00 a.m. to 12:00 p.m. /
9:30 p.m. to 8:00 a.m. the next morning
Men: 1:00 p.m. to 9:00 p.m.
Amenities
Body soap, lotion, cream
Men's Bath / Women's Bath
Senkyo-no-Yu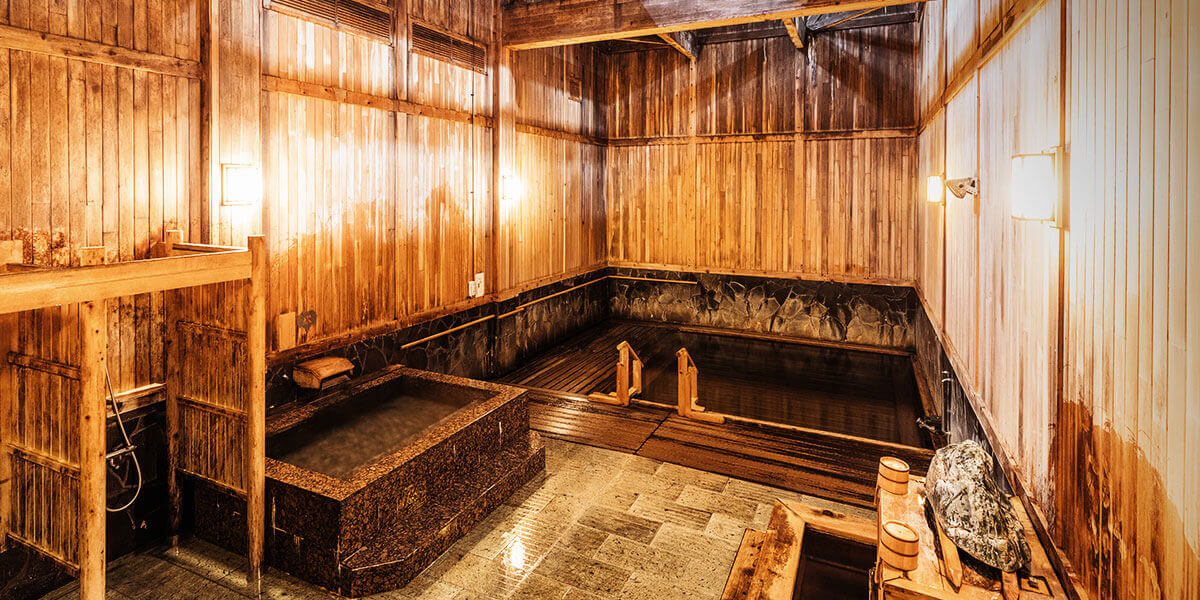 Loved as a healing hot spring for more than a thousand years
The name of this bath derives from a poem by the author Yasushi Inoue written during his visit to Tsuta Onsen, in which he likened the sound of the hot springs to the sound of wind (senkyo satsusatsu). From the bathtub to the rafters reaches heights of up to 12 meters, creating a space where the sound of the hot spring reverberates like a stream. Experience a sense of wonder and freedom in this bath.
Hours
10:00 a.m. to 9:00 a.m. the next day
Amenities
Body soap, shampoo, conditioner and hair dryer
Only available in the men's bath: shaving foam
Only available in the women's bath: make-up remover, lotion, cream
Reservations available on-site only
Private Bath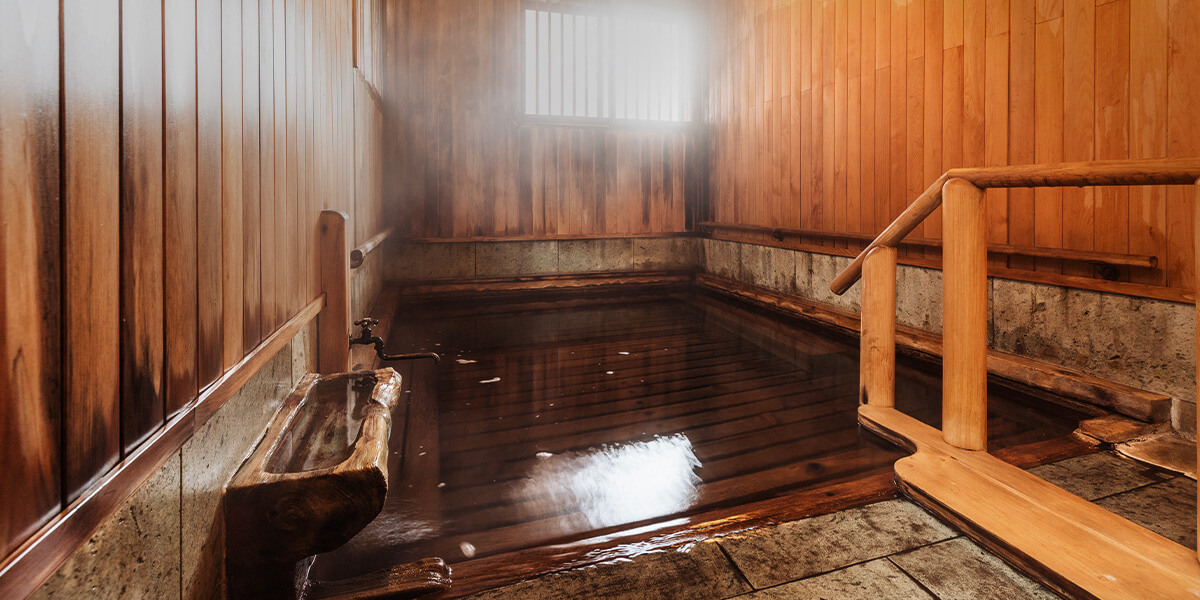 Enjoy a moment of privacy with friends and family
in the hot springs
As in the other large communal baths, this private bath lets guests relish the free flowing natural hot spring that gushes and bubbles with hot water from below.
Price
3,300 yen per hour
How to reserve
Reservations are available on-site only (please ask reception).
*Reservations are not accepted by telephone.
Day Spa
Our hot springs are available to non-staying guests as well. Please feel free to visit.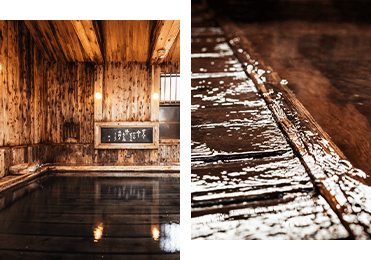 Rooms
Rooms loved by famous authors of the past, where guests can feel the passage of time.
Vibrant views that change with the four seasons outside your window. Each of our rooms features a different flavor, letting you spend time in a way that suits your style.
Special Japanese and Western-style guestroom with a semi open-air bath
Kakukan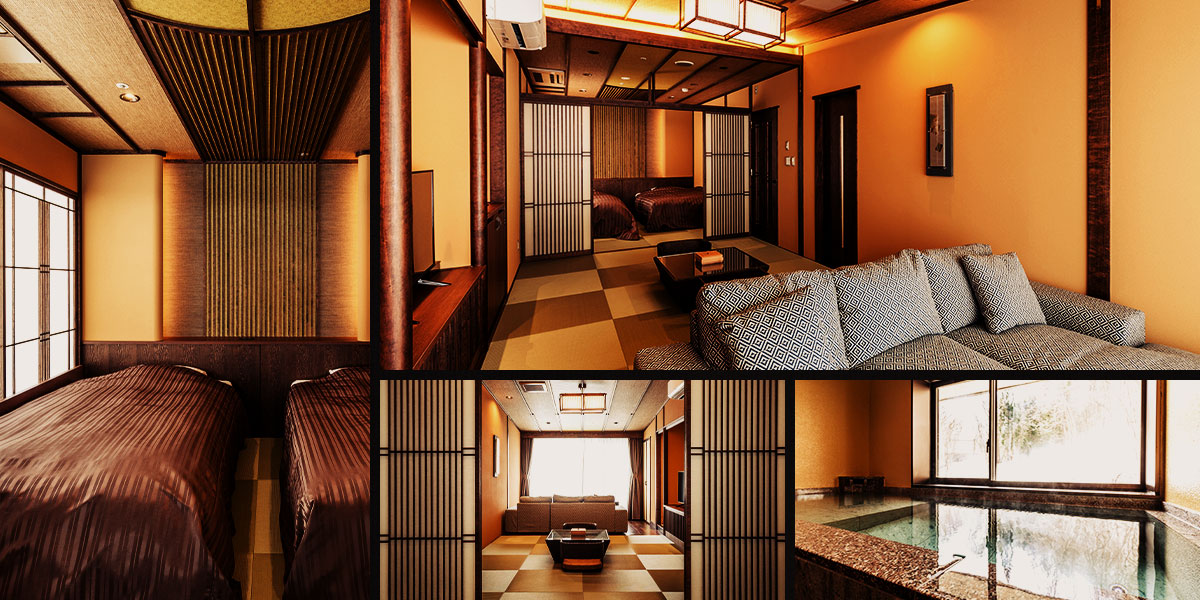 A premium room crafted with the utmost attention to detail
A special room in the Main Building
Keigetsu no Ma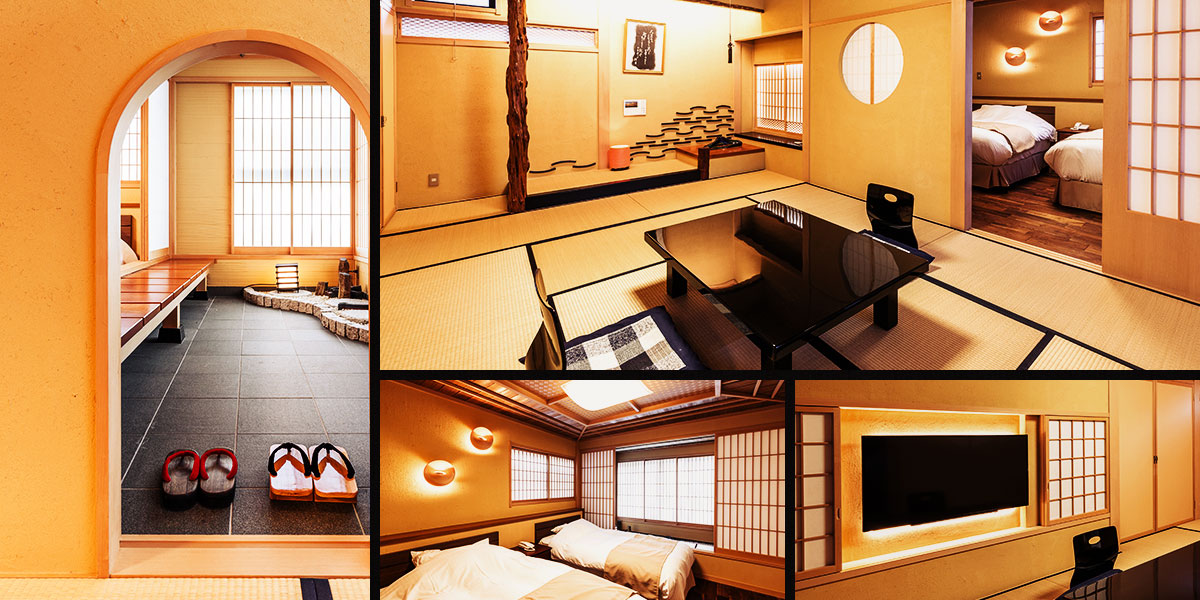 A special room named after a famous author who loved this area
A special room in the West Building
Nana Kamado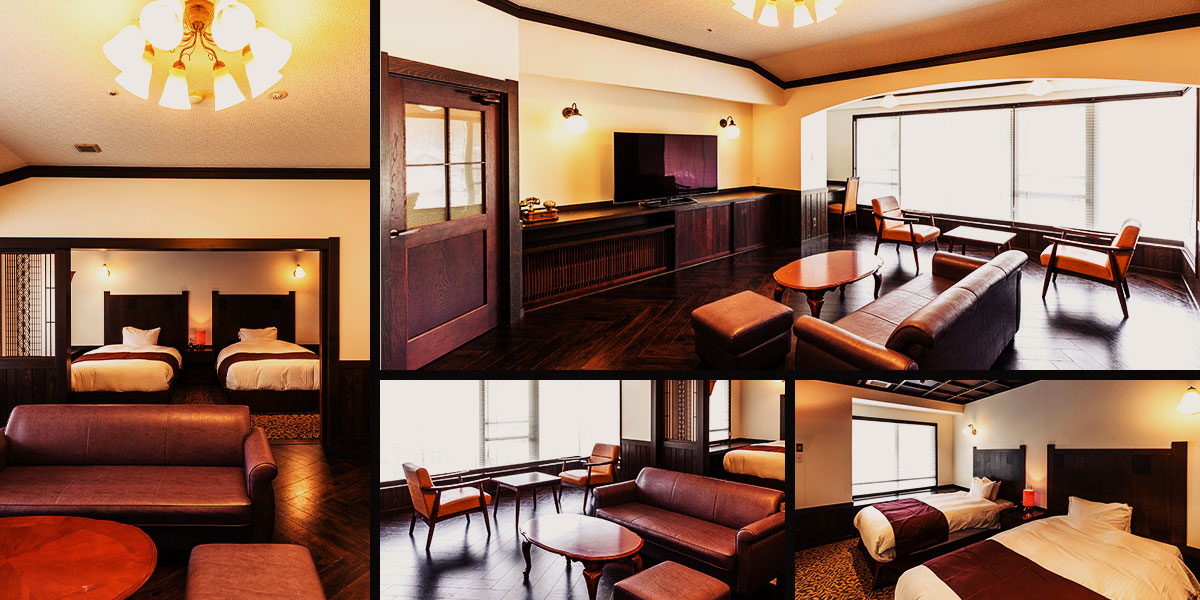 A stately space that evokes fond memories of the past
A special room in the West Building
Katsura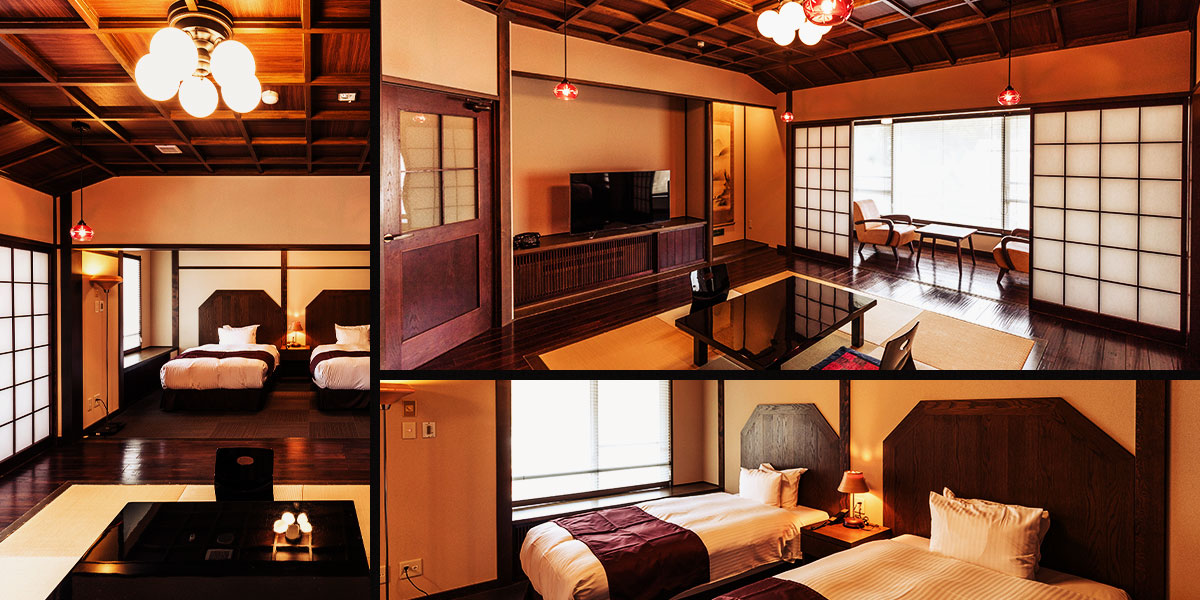 A relaxing space that fuses East and West
A special room in the West Building
Shakunage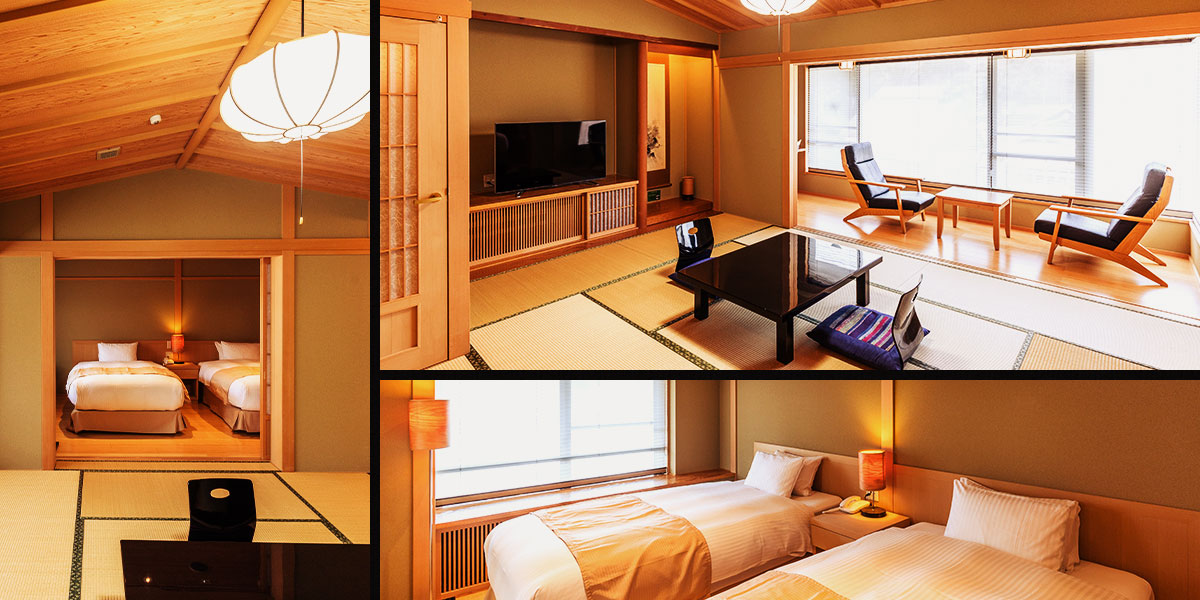 Feel the passage of time in a space that blends Japanese style and nature
3rd floor of the West Building
Japanese-Style Modern Twin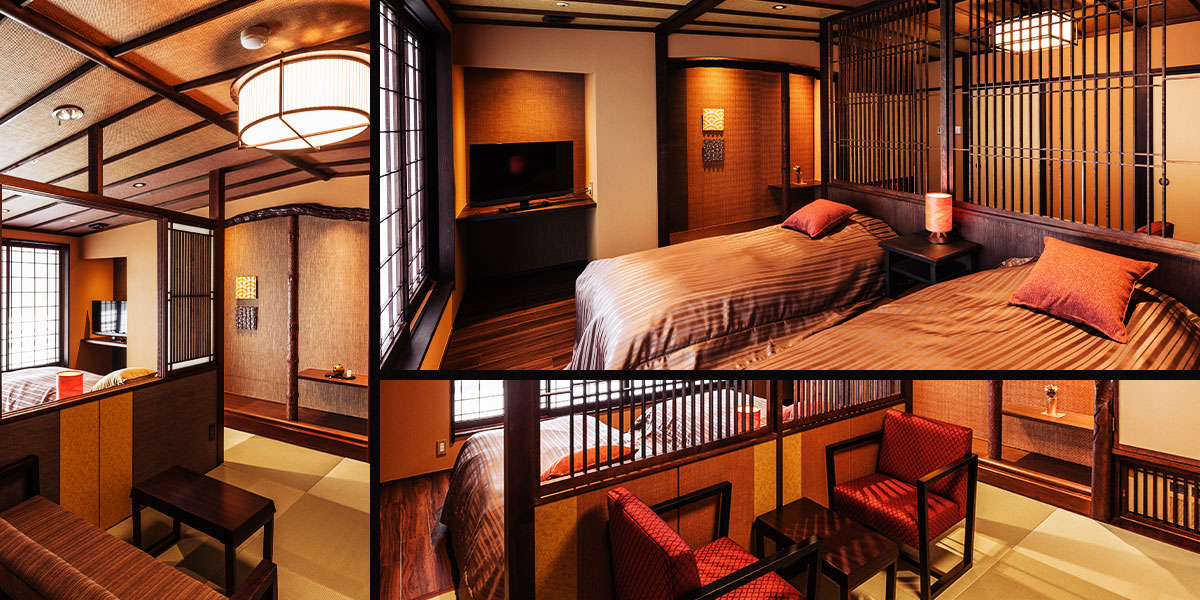 From the past to the future…
2nd floor of the West Building
Japanese-style Modern Twin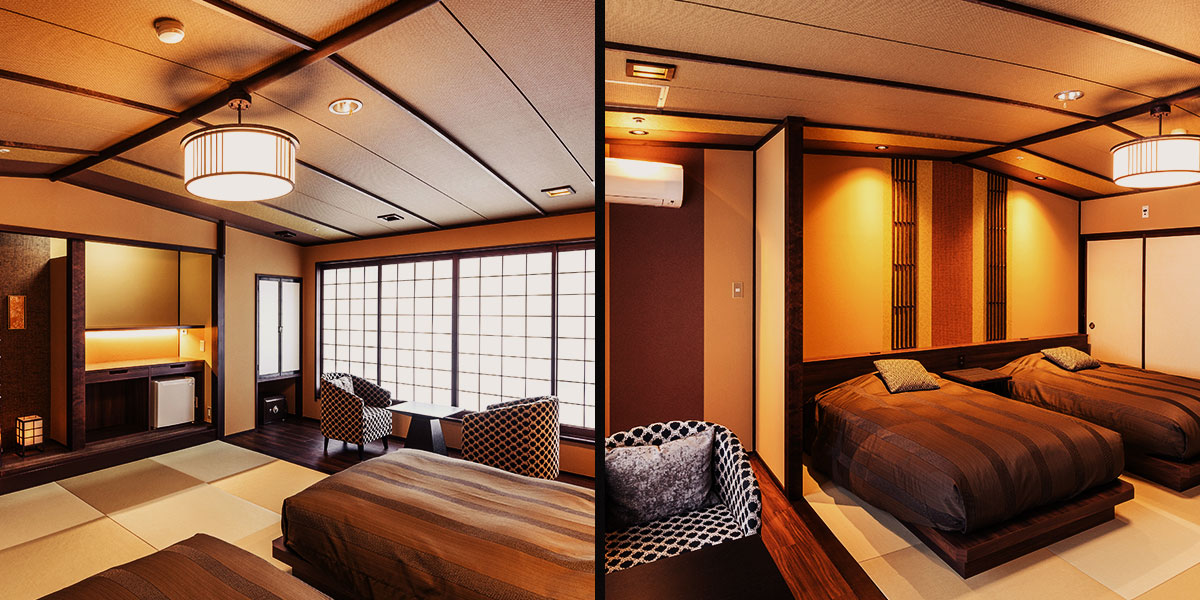 Experience a tranquil, nostalgic warmth
Guest room in the Main Building
Hinabi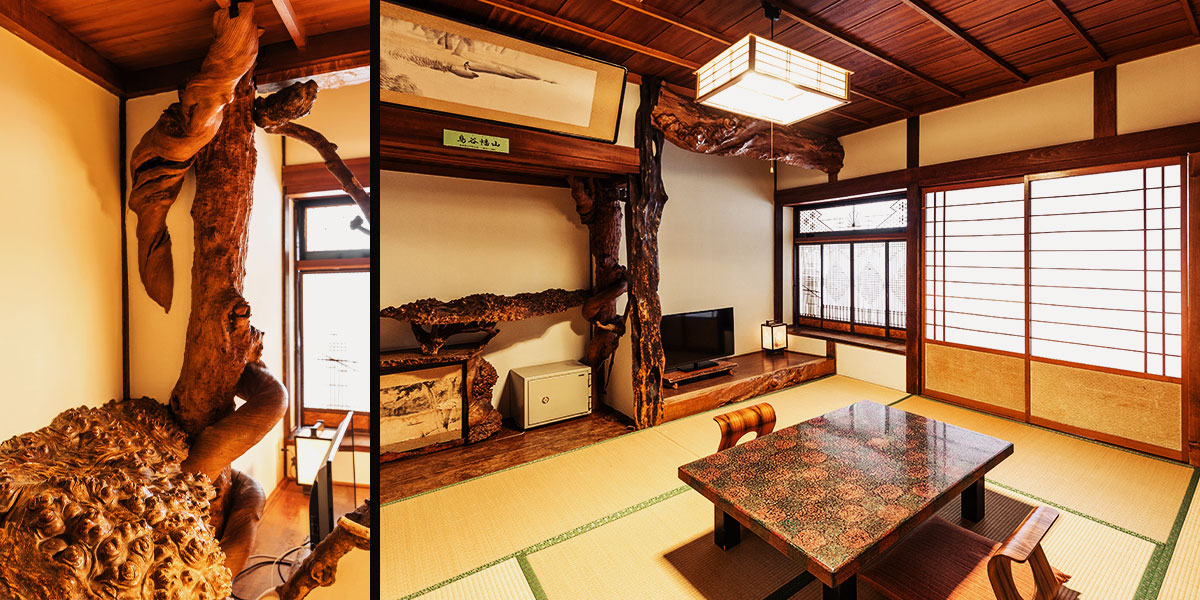 Rustic charm made even more comfortable
2nd floor of the Main Building
Room 66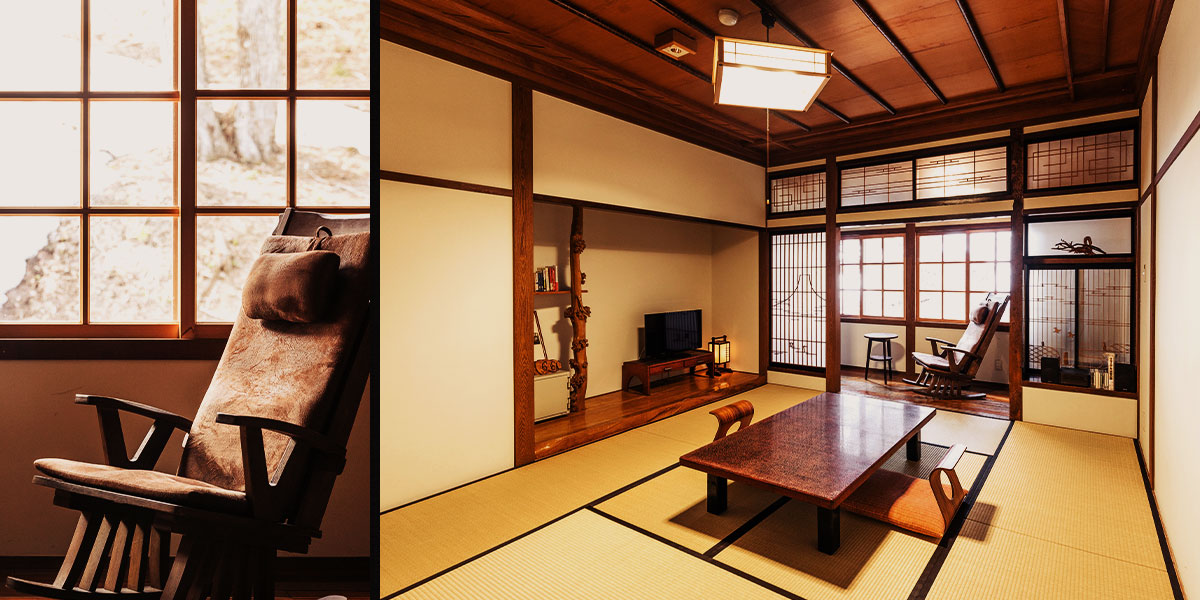 Spend your time listening to oldies
Japanese Style Executive Chalet
Opened in November 2022.
Break away from the everyday in this quaint Japanese-style room.
Gekkan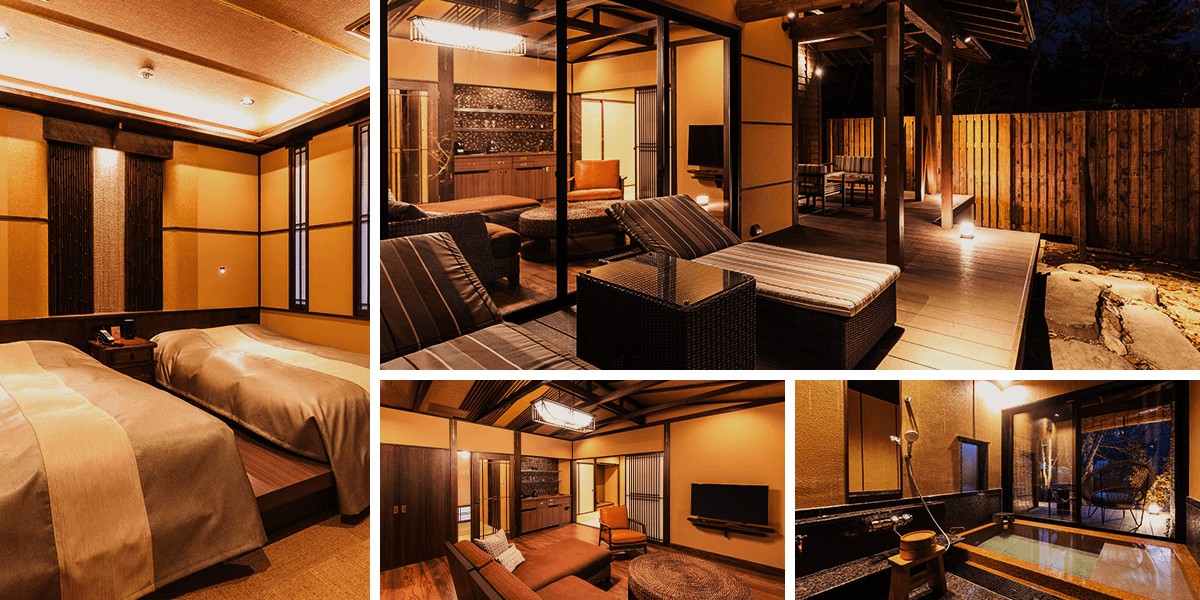 Reflect on the thousand year history of this place as the moonlight from above
the lake watches over you.
Yackaku
Spend a moment of bliss in this lavish and spacious room.
Hyoutan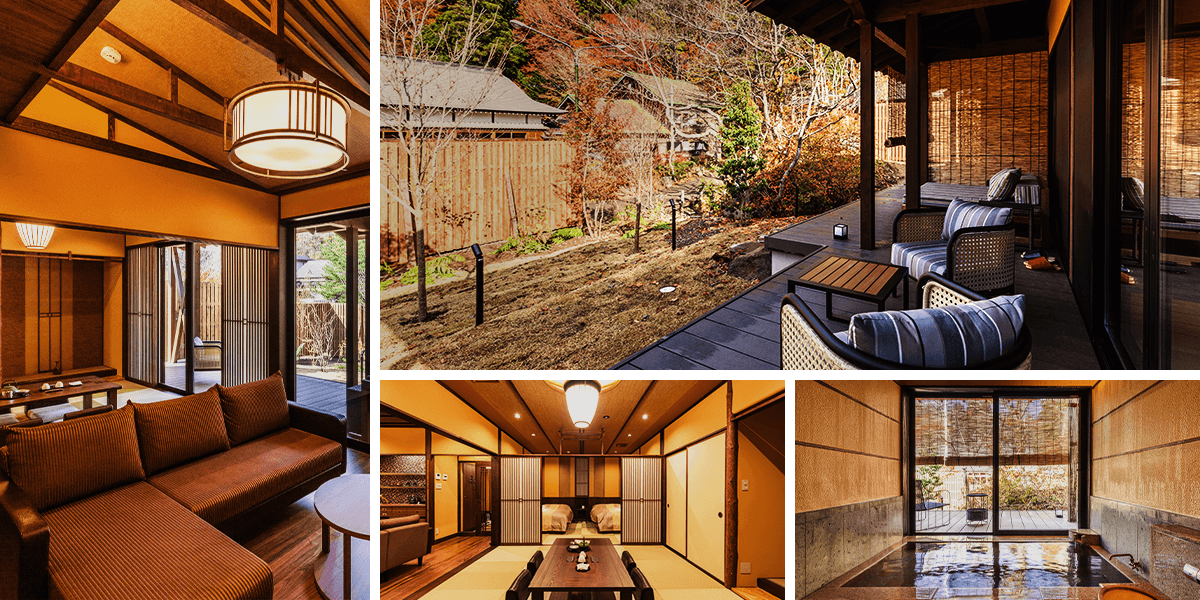 Break away from the hustle and bustle of everyday life to enjoy time to yourself in a room created
with the utmost attention to detail.
Cuisine
Discover the flavors of Aomori with all of your senses.
Humble yet tasty cuisine is created with the utmost care using locally sourced, seasonal ingredients. We welcome our guests with a fresh assortment of seasonal seafood and vegetables.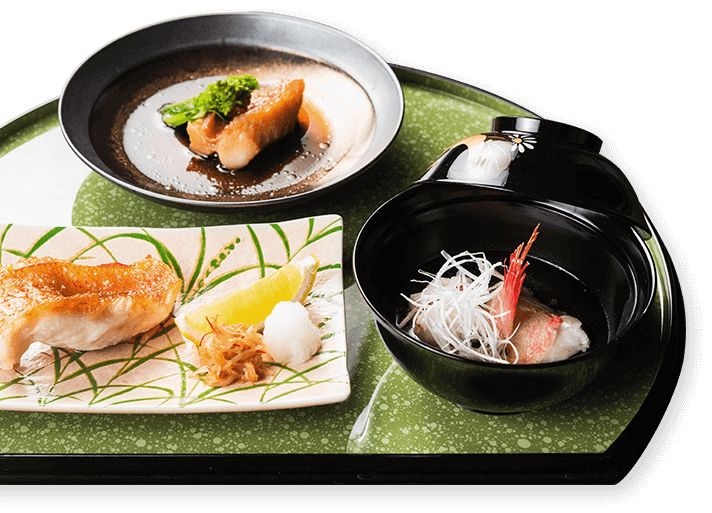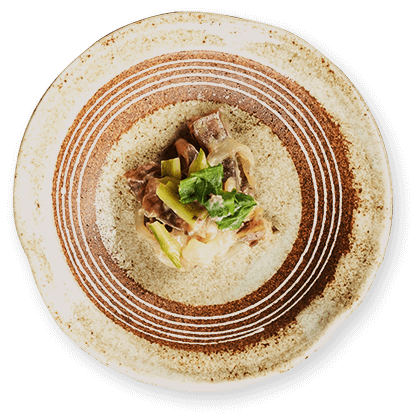 Seasonal Kaiseki Cuisine
6:00 p.m. ~ 9:00 p.m.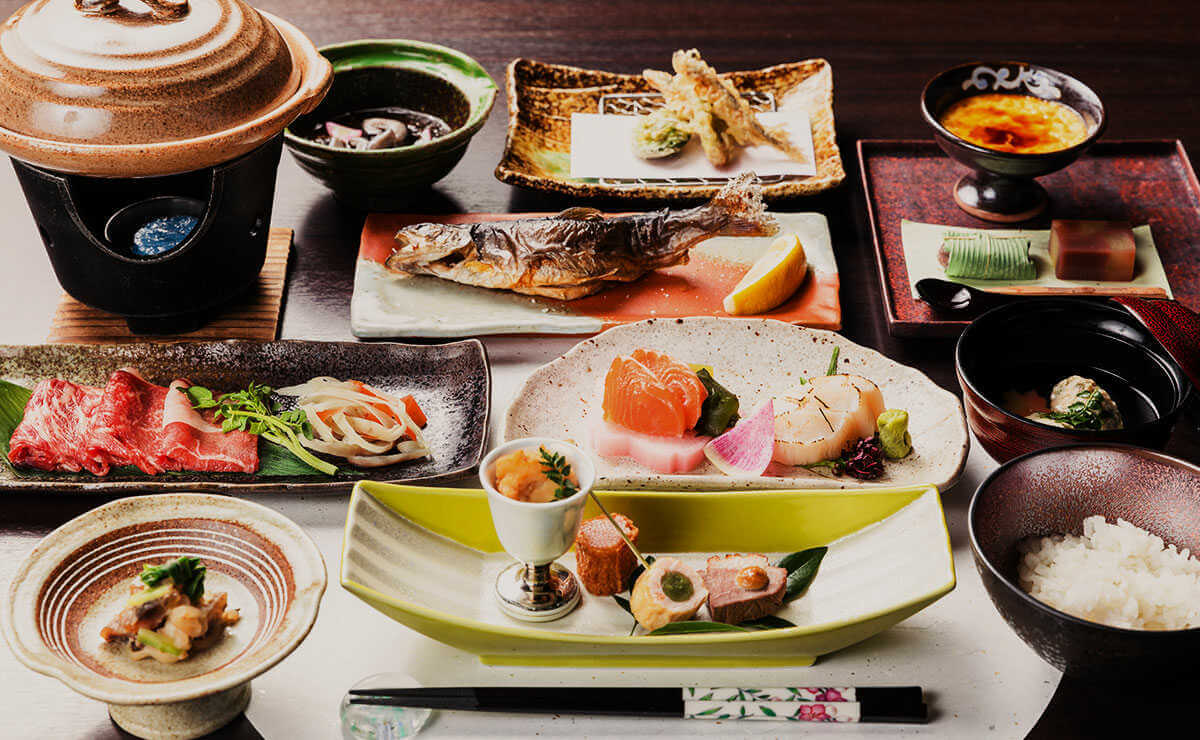 Dinner in a cozy wooden restaurant
Guests are greeted with colorful cuisine made from fresh seasonal seafood and vegetables primarily from Aomori.
Enjoy a kaiseki course created by our head chef.
Breakfast
7:00 a.m. to 9:00 a.m.
A good day starts with a good breakfast.
Experience our healthy buffet-style breakfast made generously with locally sourced ingredients.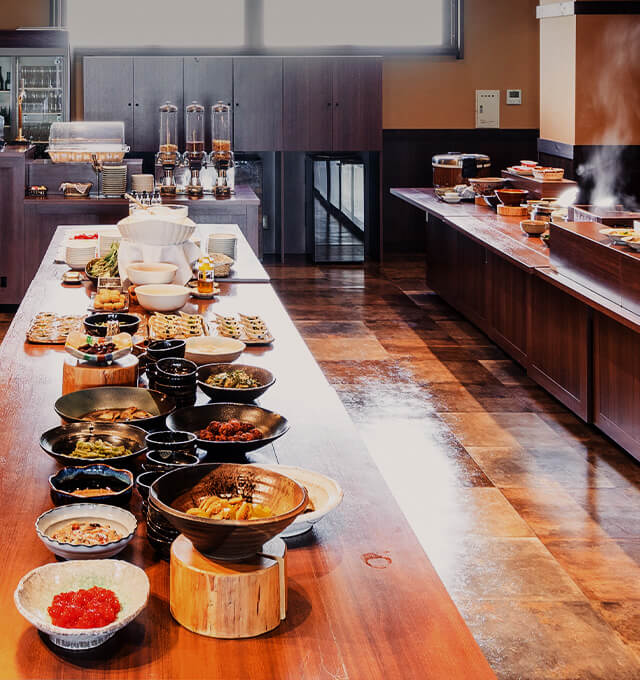 For Guests with Allergies
TGuests with food allergies are asked to notify us when making a reservation or by 9:00 a.m. on the day before the check-in date. We may be unable to accommodate guests who do not do so. Please note we can only accommodate the seven major allergens (egg, shrimp, buckwheat, dairy, peanut, and wheat). We do not guarantee that our food will be completely free of allergens.
Egg

Shrimp

Crab

Buckwheat

Dairy

Peanut

Wheat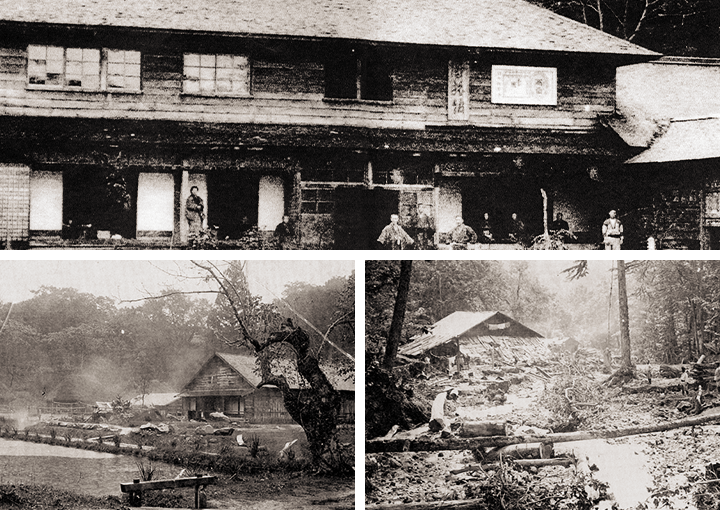 The History of Tsuta Onsen
Records of hot spring resorts here date all the way back to the year 1147.
In the 1900s and onward, authors and celebrities began visiting Tsuta Onsen to unwind.
Our historical Main Building, a two-story wooden building currently used as the main entrance and for guest rooms, was built in 1918.
Facility Guide
Free Wi-Fi

Credit card

Smoking is prohibited
Check-in /
Check-out
3:00 p.m. (final check-in 10:00 p.m.) / 10:00 a.m.
Gates closes
11:00 p.m.
Payment
Cash or credit card
Credit card
VISA / JCB / American Express / Diner's Club / UC / DC
Total number of rooms
35